Vacation Bible School
Tuesday, July 27, 2021 - 6:00pm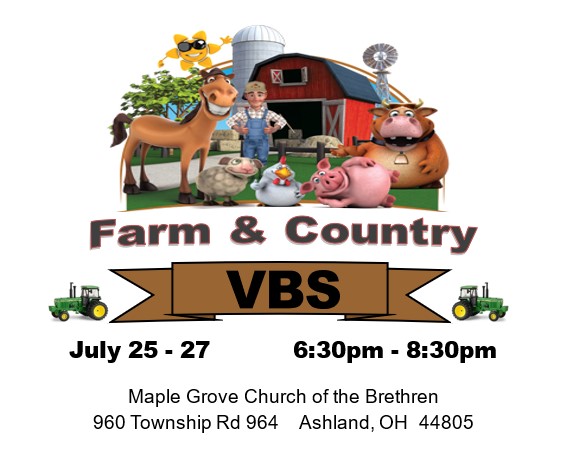 We will be having a three-day Vacation Bible School this year on the dates of Sunday, July 25; Monday, July 26; and Tuesday, July 27, 2021; from 6:30 – 8:30 PM. Our topic for the children (ages 3 through sixth grade) will be salvation using a farm theme. Children and adults will be eating supper at the church.
On Sunday evening we would like to have tractors, farm equipment, and big trucks for the children to touch and see. If you can bring a tractor and/or a piece of machinery up to the church that evening, please call me or the church. Kids might enjoy seeing a corn planter, a round baler, or any equipment that might help them understand how farmers grow crops and take care of their animals.
On Monday evening we would like to have a petting zoo. Again, please let me or the church know if you have any farm animals you would like to show to the children.
We will also be having an adult class titled "The Chronicles Question." What does the Bible say about praying for our nation? How do we pray for our country? That class will meet from 7:00 to 8:00 with a light supper at 6:30 PM.
, July 25- 27 from 6:00 to 8:30 pm.

« Back to Calendar