Tithes and Offerings
We are now able to accept offerings online! Maple Grove is able to do this through a service called Easytithe. Click on the link below to be redirected to our Easytithe website where you can give by credit card or ACH withdrawal from your bank account. If you choose to use a credit card 2.5% of your gift will be deducted to pay for the convenience fee of using a credit card. You can also create a personal account through Easytithe so that you can set up a recurring gift so you never forget to tithe. Below is a video tutorial of how the Easytithe giving page works. If you have further questions or trouble with the site, please contact Travis Kettering or use the contact us email. Thank you for your support of our church!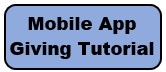 Install the Church by Ministry One Mobile App on your mobile device.